Premarket Insight
Only spent a little time over the weekend getting some practice. Spent most of the weekend working on other business and enjoying family time. Good to relax and unwind to get mentally prepared for the upcoming trading week.
NQ gaped up to Friday's open over the weekend and had a pullback of about 30 points into the gap before the start of my trading time. Price action really slow in the first hour of my trading.
At the Bell
Price continued to bounce around in the premarket until a nice bull move about an hour before the open, giving me two decent scalps before the bell.
Right out the gate, the market took off bullish almost making me wish I didn't have the no trading first 10 mins rule. (LOL) But have to be patient here. It's early and this should mean plenty of good opportunities to come.
Could have taken a reverse on the strong open market bull move but decided to not take it as it's not part of my normal strategy. Would have worked out as long as I stayed disciplined to my stop and got the best entry, so good decision to pass up on it. Would have been too stress inducive.
COB Recap
Market practically went to sleep after strong open, hanging around in a tight range forming a bearish channel. Attempted 2 scalps resulting in losing premarket profits.
Took a peak at ES (S&P Futures) which would have been a much better trade today. What to do, it happens. At this point, 1 more hour to go before lunchtime. Maybe an opportunity will present itself within the hour. (fingers crossed)
And less than 10 mins later, was able to catch a nice scalp as NQ took a dive. Missed second opportunity from not fact checking info put out in chatroom about 11:30 fed news. Turns out that news was predicted to have limited effect on the market according to the investing.com economic calendar. Lesson: Always fact check info from others.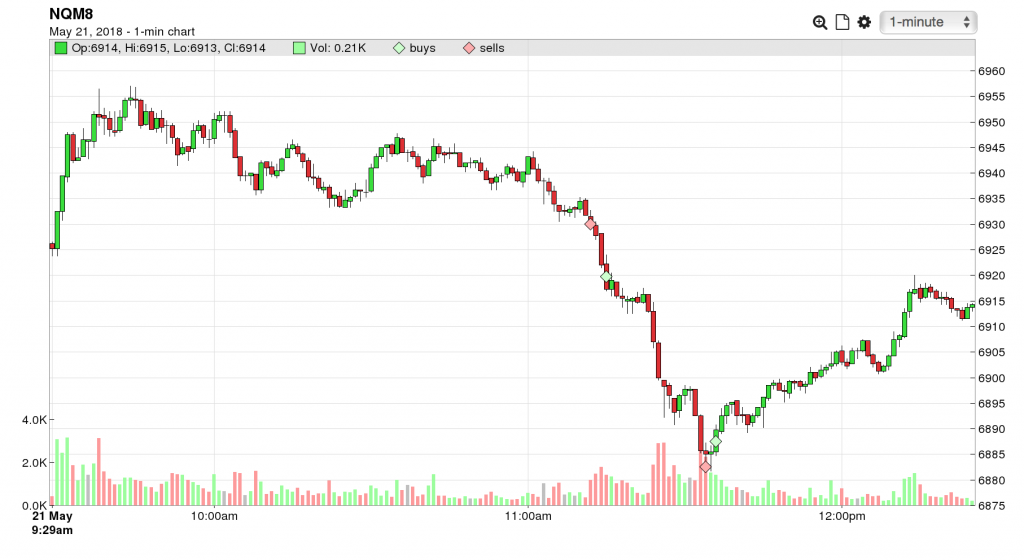 Rob
Mv3 Trader
"Trade Consciously"
Please follow and like us: